Introducing Color-coded PTE Score Reports: Differentiate Between Pearson's English Tests with Ease
Pearson PTE Team is thrilled to announce an exciting update regarding their ever-expanding portfolio of English Tests. They understand the importance of clearly distinguishing between the various tests they offer, and to facilitate this, they are introducing some significant changes to the PTE score reports.
Starting from the 5th of July, PTE Score Reports will employ a unique color scheme for each test within the expanded portfolio. This means that when governments and institutions verify score reports on the Pearson Score Report Website, they can easily identify the specific test at a glance.
Let's take a closer look at the new color scheme for PTE score reports:
Any score report received or verified from the 5th of July onwards will showcase the new color scheme mentioned above. It is important to note that any PDF or hard copy score reports generated prior to the 5th of July will continue to display the previous color scheme.
PTE Academic and PTE Academic UKVI:
These reports will be adorned in a refreshing turquoise color, allowing for effortless recognition and differentiation.
The score reports for PTE Online will feature a captivating purple color, making them stand out among the rest.
Reports for PTE Core will be presented in an attention-grabbing orange color, ensuring easy identification.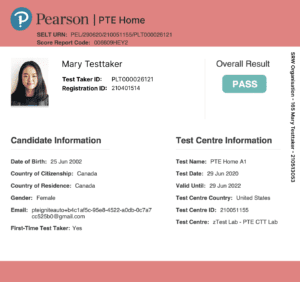 The PTE Home score reports will showcase an elegant coral color, making them instantly recognizable.
What are you waiting for? ⬤ LEARN WHAT PTE EXAM WANTS, TESTS AND LOOKS FOR ⬤ Call 7207115105 ⬤ ENROLL NOW! PTE Academy
If you're looking for more information about the exciting updates to the PTE score reports or if you want to delve deeper into the PTE test itself, We have a highly recommended solution for you. Look no further than PTE Academy – the leading PTE coaching center offering both online and offline classes.
At PTE Academy, we have built a reputation for excellence by providing comprehensive coaching programs designed to help you achieve your desired PTE scores. Our team of expert tutors is dedicated to guiding you through the entire test preparation process, ensuring that you're well-prepared and confident on your exam day.
To learn more about the recent PTE score report updates or to enroll in our top-notch coaching classes, all you need to do is reach out to us at +9172-7115105. Unleash your full potential with PTE Academy, where your PTE success is our ultimate goal!
In summary, the introduction of color-coded PTE score reports by Pearson marks a significant milestone towards effortless differentiation between their range of English Tests. Whether you're an individual test-taker or representing an institution, these changes will streamline the score verification process. Don't miss out on the opportunity to benefit from our exceptional coaching services at PTE Academy. Contact us today and let us help you succeed in your PTE journey!